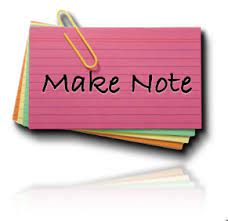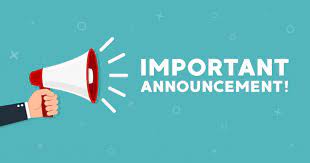 Gather with us during our new schedule!
8:00 am Prayer
9:00 am Worship
10:15 am Sunday School
SOCIAL DISTANCE SITTING:
*Social Distance seating in the Sanctuary on the window side
FRIENDS OF ECC: (RRCC Teddy Bear ~ June18-19)
Tira Christin
Mail a card or letter: 16486 W IL Rt. 64 ~ Polo, IL 61064
Email a letter: rrccoffice@gmail.com
FEED OUR CHILDREN
Begins Wed., June 2 @ Noon
Erie Triangle
Every child welcome to get lunch
NEW ROOF OFFERING: (Goal: $35,000)
Our sanctuary is in need of a new roof
Offering Envelopes available at entryways
THANK YOU for helping meet our need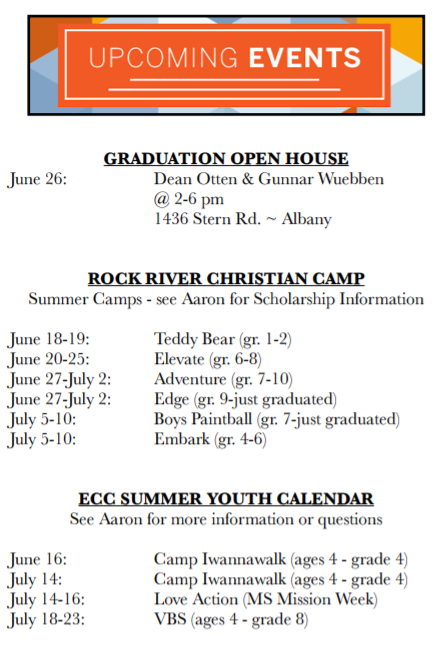 W.A.O. (We Are One)
(Group studies and gathering for College and beyond)
Guys/Girls Bible Studies - Sundays @ 4 pm
Group Study - Sundays @ 5 pm
Questions? See Aaron
WEDNESDAY YOUTH GROUPS
REMEDY (Grades 5-8) 5:30-6:30 PM
HS GIRLS BIBLE STUDY 6:15-7:00 PM
LIGHTHOUSE (Grades 9-12) 7:00-8:30 PM
Questions? See Aaron
FOOD FOR THE SOUL
Wednesdays @ 5:00 pm on the Erie Christian Church Facebook Page
SATURDAY MEN'S BIBLE STUDY
@ 8:00 am in the ECC Chapel or via Zoom with Nathan
https://us04web.zoom.us/j/79489530807?pwd=Ynk3Z1d4eTFWK3JjTTNXa0tqWU9CQT09
Password is ECCMBS
THIS WEEK:
Sun., June 13:
8:00 am Prayer Time
9:00 am Worship
10:30 am Sunday school (all ages)
11:30 am W.A.O. Lunch (college age)
Wed., June 16:
11:00 am Camp Iwannawalk (Ages 4 - Gr. 4)
Noon Feed Our Children (Triangle)
5:00 pm Food For The Soul (Facebook)
5:30 pm Remedy (Gr. 5-8)
6:15 pm HS Girls Bible Study
7:00 pm Lighthouse
Sat., June 19:
8:00 am Men's Bible Study
Sun., June 20: HAPPY FATHER'S DAY!
8:00 am Prayer Time
9:00 am Worship
10:30 am Sunday school (all ages)